Are you looking for Rim Repairs for your vehicle?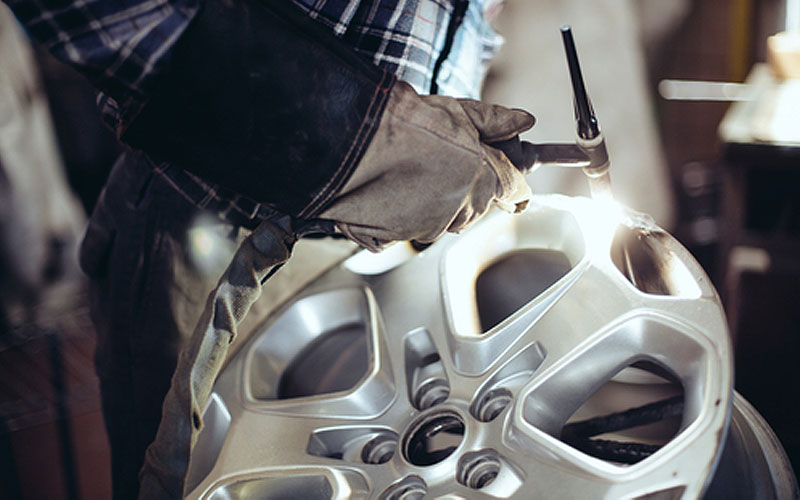 Scuffs, scratches or other damages to alloy wheel rims can severely jeopardise the overall aesthetic appeal of a car. Since alloy wheels are made up of non-ferrous metals they are easily susceptible to light impact damages. Alloy wheels are extremely costly so replacing them frequently due to such damages is not a budget-friendly option.
A more cost-effective alternative is to opt for a rim repair Wolverhampton from reliable workshops like Junction 11 Motors. We can provide you with a reliable alloy rim repair service at affordable rates. We have a specialist team of experts who are meticulously trained to repair alloy wheel rims using the industry's best tools and techniques.
We also conduct a detailed inspection of the wheels before carrying out any repairs for utmost safety.
Problems of driving on damaged alloy wheels
Damaged alloy wheel rims not only affect the aesthetic appeal of your car but also lead to several other issues, like:
Juddering steering column
Inefficient steering stability
Difficulty in steering the wheels
Accelerated drop in tyre pressure
Poor fuel economy, etc.
To avoid such issues, it is crucial you to opt for an alloy rim repair service Wolverhampton from our workshop.
How can we help?
Alloy rim repair is an extremely intricate process. If not conducted correctly it can cause irreparable damage to the wheels. Therefore, at our workshop, we follow a defined process to repair the alloy wheels with utmost accuracy and precision.
Our process of rim repair Wolverhampton involves the following steps:
First, we will unmount your car's wheel and then clean it properly to remove all the dust and grime and expose the damaged area.
We will then ensure there are no buckles on the rim. If any, we will have to remove it first with the help of our advanced hydraulic press system.
After this, we will wash the wheel and prepare it for the sanding process.
Next, our experts will sand all the scratches and other damages on the rim.
Finally, we will spray paint the damaged area and colour-match it to factory-finish.
We also offer other alloy wheel rim repairs, like:
Powder coating
Cosmetic repairs
Diamond cutting and more.
Still searching for a "rim repair service near me"?
Contact us for affordable and hassle-free rim repairs Wolverhampton.
Easy payment options
We also offer you an interest-free credit facility. You can use this facility for your rim repair service Wolverhampton without any upfront payment and pay back the total billed amount in easy monthly instalments.
Book now by calling us on 07534 248746 or 01922 412919.