Are you looking for Wheel Balancing for your vehicle?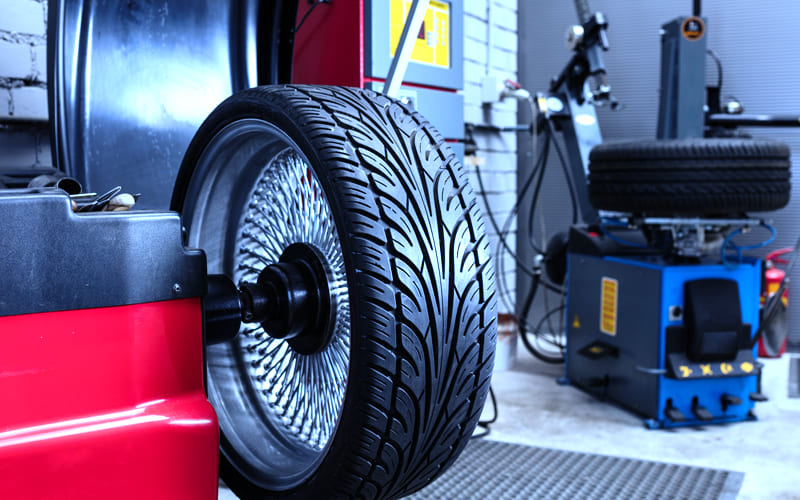 Each rigid body rotating around a fixed axis has an imbalance. This imbalance leads to vibrations, which can lead to increased wear. This wear creates further imbalance. This scenario is especially prominent in car wheels.
When you visit us at Junction 11 Motors Creditline for a wheel balancing Wolverhampton, the wheels are inspected using a wheel balancing machine. The machine sets the wheel (with the tyre) in a fast rotational motion. The axis of that machine is equipped with sensors that measure the magnitude of vibrations generated by the imbalance.
We have a team of experienced technicians who are certified to handle all the modern equipment at our Wolverhampton workshop.
After calculating and setting a weight depending on this data, the counter weight of the balance is then attached to the wheel rim. This process is the most efficiant way of correcting wheel imbalance.
Do you know that experts recommend wheel balancing whenever you change your car's tyres?
Experts recommend running your vehicle through an inspection every time you change its tyres. However, there are specific signs you might notice that indicate wheel imbalance.
A shaking steering wheel is a strong indicatior of imbalance. Imbalance of the tyres puts extra stress on wheel bearings, wheel suspensions and steering gear. Also, the tyres themselves wear out faster and unevenly.
Is the vehicle pulling to one side while you are trying to drive straight? This can be another sign of wheel imbalance.
How frequently should you bring your car for inspection?
Our experts recommend wheel balancing at Wolverhampton at least twice a year, or you should generally have your wheels balanced after a tyre change or other repair works.
Here at Junction 11 Motors Creditline we carry out wheel balancing as a standard procedure whenever we fit new tyres.
Wheel balancing and inspection should also follow after an unusual impact like driving through a deep pothole, over a speed bumper or hitting a curb at a higher speed.
So what are waiting for? Visit Junction 11 Motors Creditline today and get your wheel balancing Wolverhampton sorted. Bring your car to our workshop on any working day.